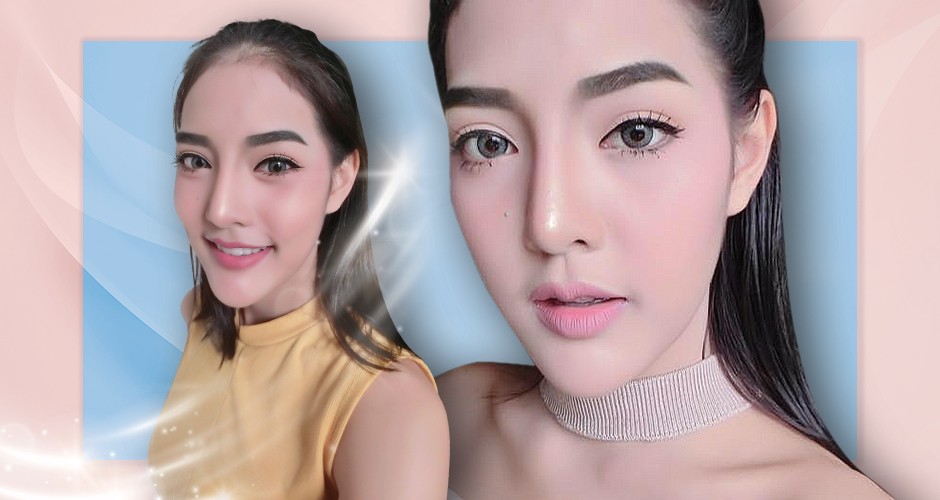 Who'd know how much pain I've had to go through before being this beautiful!
Oomaem Radamanee, a Chiang Mai girl with a unique look. She loves beauty since childhood. When she's grown up, she came to Bangkok to both work and study. She contributes her income to her family and also gave herself pleasure by caring for the beauty that she has been dreaming since childhood. Today, she is willing to share her nose job and make-over experience with others. She started by saying that ... "Before the nose job, I had done "Babii Lips'' at SLC. I have had totaling 4 nose jobs done. The 1st – 3rd times had been done somewhere else. I felt extremely bad with one of those 3 times because it didn't come out as agreed. I want to share my experience with others so they'll know what they face each time"


The 1st nose job left me with crooked nose. I did not dare look straight at the camera when taking photos
She talked about each nose job that…"I personally think that my nose bridge should be higher so I'd look mean. I don't think that looking sweet is me. I've had 4 nose jobs done. The 1st – 3rd times had been done somewhere else and I decided to get my 4th time done at SLC" and when talked about the first nose job, she said that ... "I had my 1st nose job done since I was a teenager. You can say that I had it done because my friends had them done. My nose looked really good. But as time had gone by, it got crooked. So I did not dare look straight at the camera when taking photos because it was so obvious"


The 2nd nose job left me the most physical and psychological pain. The nose shape was nothing like as we had agreed. "After the 1st nose job that had ended up with my nose is being crooked, I decided to fix it by getting the 2nd nose job. I was extremely disappointed this time because we had agreed on a specific shape but it came out totally different. I contacted the clinic but no one was will to be responsible and I ended up with the nose shape that I totally disliked. The silicone that was used was shorter than the nose frame. I spent 20,000 Baht for that. What made me felt really sad was that the doctor's word was worthless. After the surgery, my nose was also bruised and infected for months. Everyone said that it was okay but I didn't think so, I thought that it wasn't me at all."

My nose bridge was really high and I was scared that the silicone would penetrate the nose for my 3rd nose job:
"After the 3rd nose job from a clinic, I must admit that the doctor did a good job on it. However, after the swelling has completely gone down, the nose bridge looked too high, too fake, it was too big for my face. I couldn't have a picture taken from all angles and when I put on makeup, I had to lighten the bridge to make it look smaller. I was also scared of my nose being penetrated. So "I thought of redoing it again. I really thought that it would be my last time, I wanted a nose that would be with me until I die and the shape I would be most satisfied with".


I cried too many times. So my 4th nose job I wanted it done at SLC:
"After studying for a full year on the technique that will suit my nose and that I could get a nose that I truly wanted and the doctor was adorable. I get paranoid when my wound has not been healed or not as I wanted it to be, I would be petulant. However, they gave me advice and were able to deal with a peevish person like me(lol). I started with contacting a salesperson to make an appointment with a doctor first. I asked so many questions. The doctor calmly answered all the questions, and also drew a picture of the nose job that would be done for us to see and decide for ourselves. The techniques and silicone types were also explained so I felt comfortable and the doctor understood the problem with the nose first. I therefore, decided to get my 4th nose job done at SLC".



"We then made an appointment and on that day I talked to the doctor on what I wanted. So we could be on the same page. Then I changed into a gown, cleaned my face, and took inflammatory and painkiller medications before getting on the operation table. I also had to sign the surgery acceptance form. It is very important for us to sign the surgery acceptance form. It is also a guarantee for our safety. Then the assisting nurse would disinfect the face and nose and the doctor would begin to inject the anesthesia and said that I'd only be hurt for the shot and then the doctor took out the old silicone and began to sharpen the new silicone, the doctor was talking to me the whole time I was undergoing the surgery to make me feel comfortable. After the procedure was done, the doctor would tell me to look into the mirror and place bandages to reduce bleeding. The doctor advised me to leave them on for 2-3 days."


"This image is after the surgery right out of the operating room. Then the assisting nurse place a cold gel pack and gave me the medication, cleaning equipment and care instructions as instructed by the doctor. The assisting nurse also made an appointment to check the stitches (the stitches used was dissolvable silk), I then got dress to go home".


"What I psyche myself for was over!! When the anesthetic was no longer working, I thought it would certainly be painful but I didn't feel much pain, I wasn't hurting as much as I had been before. All I had to do was simply took my medication as instructed by the doctor. "


"I kept the bandages on as instructed by the doctor and kept using the cold pack for the first 4 days"

"I was going out every day, I did rest at all and after the 5th day, I took off the bandages"


"I have to take exams today so I put on some makeup"


I feel much better that I finally got the nose shape that I've always wanted.
"All I had to do was following the doctor's instructions: using cold compress and hot compress as recommended by the doctor to take care of myself after the nose job. The swelling was less than the previous nose jobs. It only lasted for a week. It then disappeared. It actually took about 3 months to completely be healed. I normally review cosmetics often but I no longer had to worry about putting on makeup. I feel really good and I have the nose that I've always wanted."


After my 4th nose job, there were lots of people asking me about it. So I have to share my nose job experiences:
"After lots of people that are close to me asked me about it, I had to start posting because I was truly unable to answer everyone. There were people saying that I look so much better as naturally beautiful as stars. I'm very happy that this nose job went extremely well."

She is a girl that likes social network. You can follow her on her posts on experience with plastic surgery here dungdong.com



Lip reduction and Babii lips surgery at SLC and everything went well.
Before Khun Oomaem got her 4th nose surgery at SLC, she had got lip reduction and babii lips surgery done and she said …
"When I got the lip reduction, I actually wanted my lip to look better as by the doctor see appropriate. I had done the upper lip for over a year. I actually want to tell all of you that the swelling will not be the same for everyone. It took quite a bit longer for my swelling to go down than others. But when it's completely heal, it's very satisfying".



Throughout the period she has undergone plastic surgeries or other services to improve her beauty, she has had lots of experiences from many clinics. Therefore, she said that "I have grown up so I have a lot more experience and more knowledge on beauty. Therefore, it has taken me lots of time to review and found out that SLC is one of the top clinics selected in my mind. Every time I went to the clinic for consultation, the staffs have always taken really good care of me. Every time I had a question, I would contact them myself without any pressure to buy. Everyone was very friendly. So I've trusted this place to provide me with lots of services".
Totaling 8 services to increase your beauty. Oomaem, the beautiful girl! from every angle
1. Lip reduction and babii lips (Click! for more information)
2. The 4th nose surgery with close technique sharpening silicone (Click! for more information)
3. Meso Nano Treatment (Click! for more information)

4. Sygmalift HIFU face adjustment and stimulates silicone under the skin
(Click! for more information)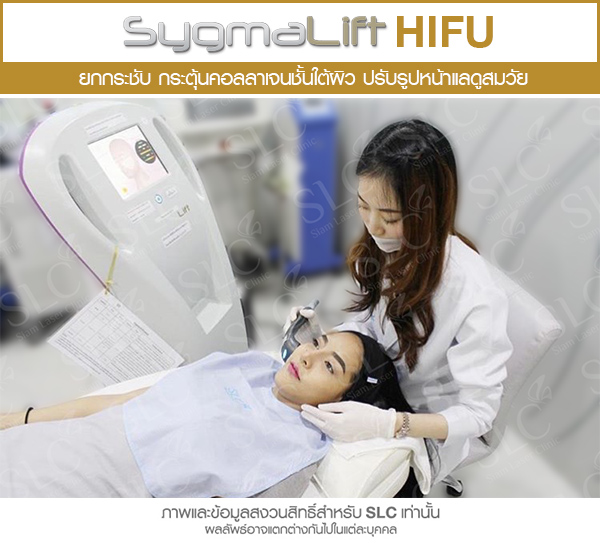 5. Detox Blink concentrate vitamin injection (Click! for more information)
6. Armpit and forehead hair removal and Brazilian wax with Gentle Yag Laser

(Click! for more information)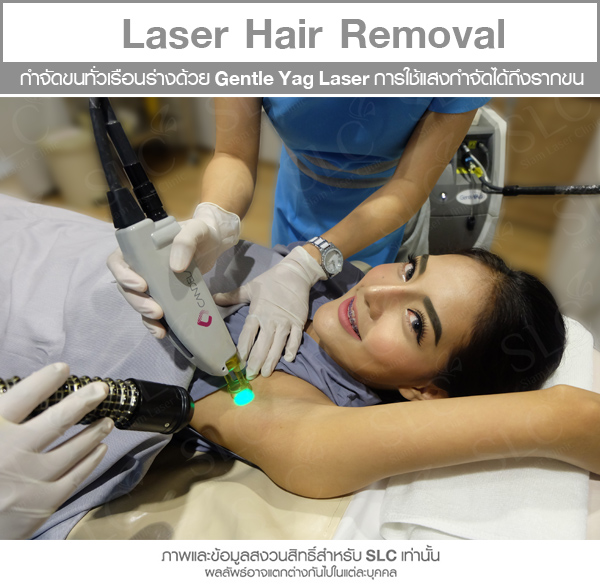 7. Buttock whitening with White Laser and Treatment Mask (Click! for more information)
8. Claire Signature in Luxury Style for eyelash extension (Click! for more information)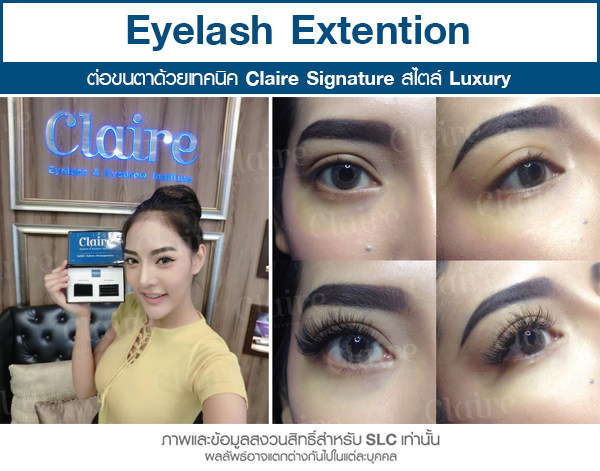 9. Easy White: teeth whitening with Cool Light (Click! ดูข้อมูลฟอกฟันขาว East White)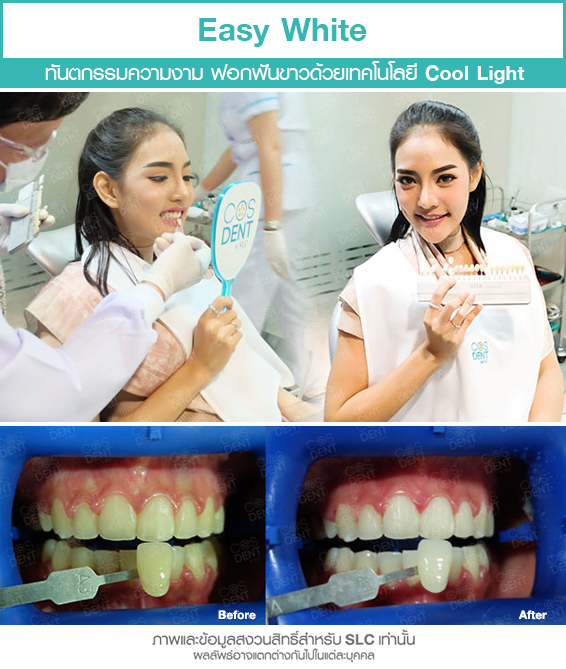 Do not be hurry with "plastic surgery"
"I'd like to tell those who want to get a nose job or any other plastic surgery done that if you've made up your mind, you should be prepared that plastic surgery will definitely change you either positively or negatively and that's your decision as you have to accept the fact that if you fail to carefully do research, it may not turn out the way you expected. Therefore, don't rush and research information so you won't be sad or waste your money later as happened to me. What we want from plastic surgery is to look better as we want and will be satisfied with. If it'll make you more confident and happier, just go ahead with it. The important thing is do not be gullible, you need to carefully review the posts, contact the institute, people you know, and get consultation form the doctors themselves before making your decision. I personally want to be uniquely beautiful and get the plastic surgeries to look better as ourselves."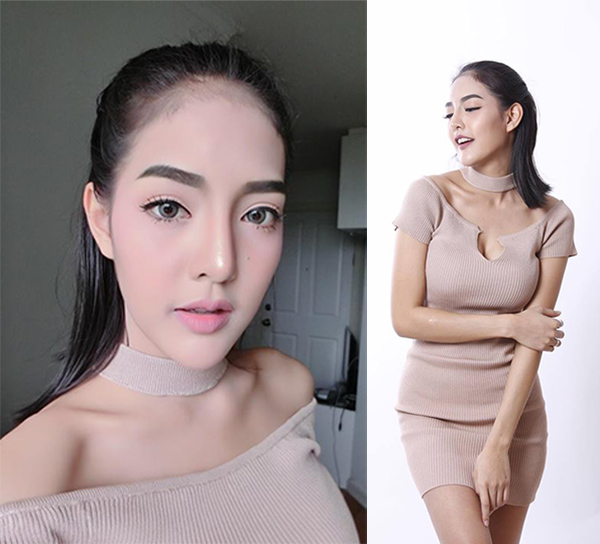 Khun Oomaem is administrating a cosmetic product business at only 22 years of age. She's deemed to be a very beautiful girl that is clever and confident. We'd like to thank you for trusting SLC to provide you with services.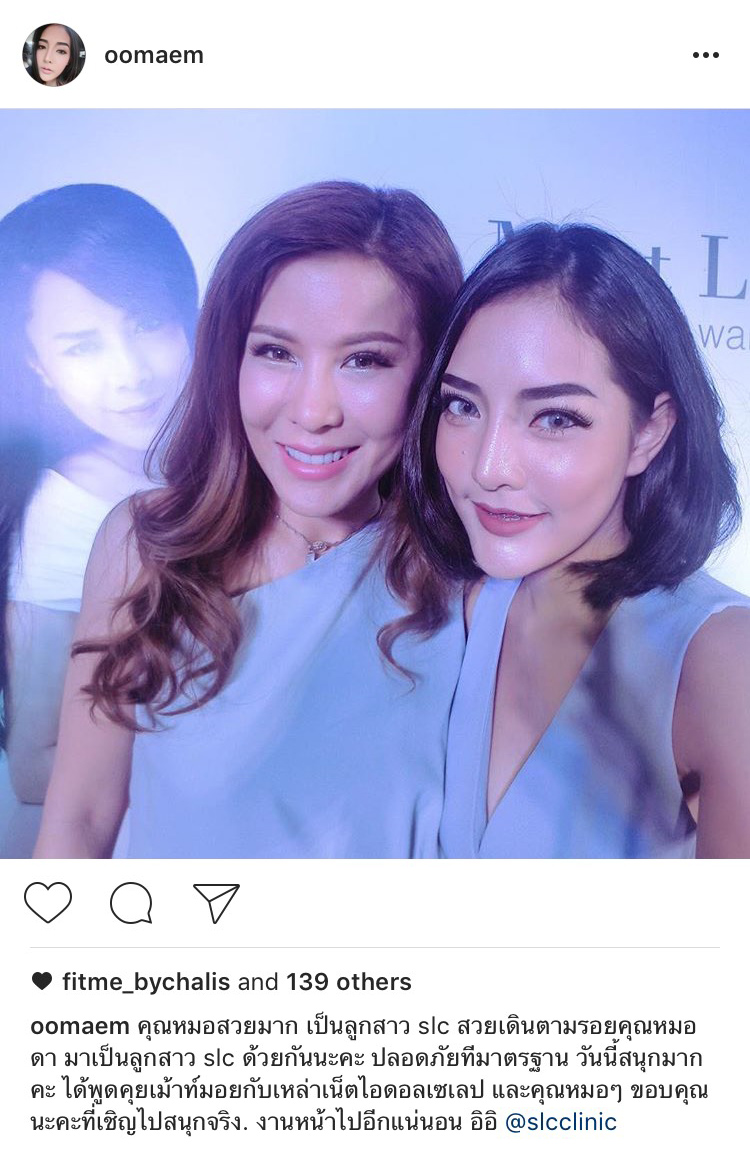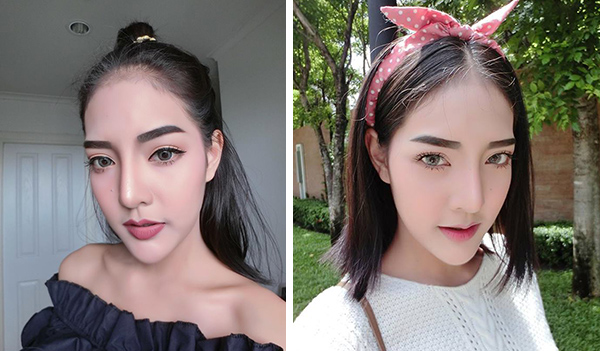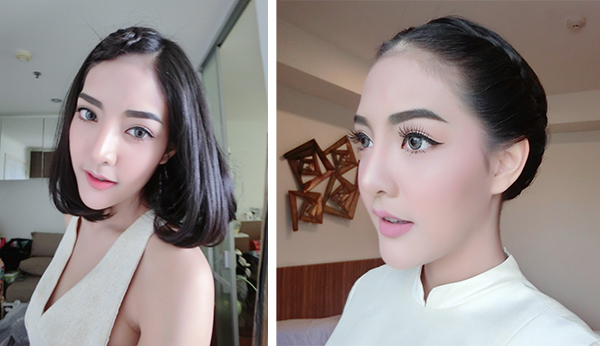 Thank you for sacrificing your valuable time to let us interview you.
IG : Oomaem
Facebook : Radamanee Khumjinda
Blog : Dungdong.com
At SLC, we are available for consulting about all beauty problems
Call Center : +66 2 714 9555
Whatsapp : +66 96 116 0806
Facebook : SLCclinic
Skype : SLCclinic
LINE : @SLCclinic


Contact Us