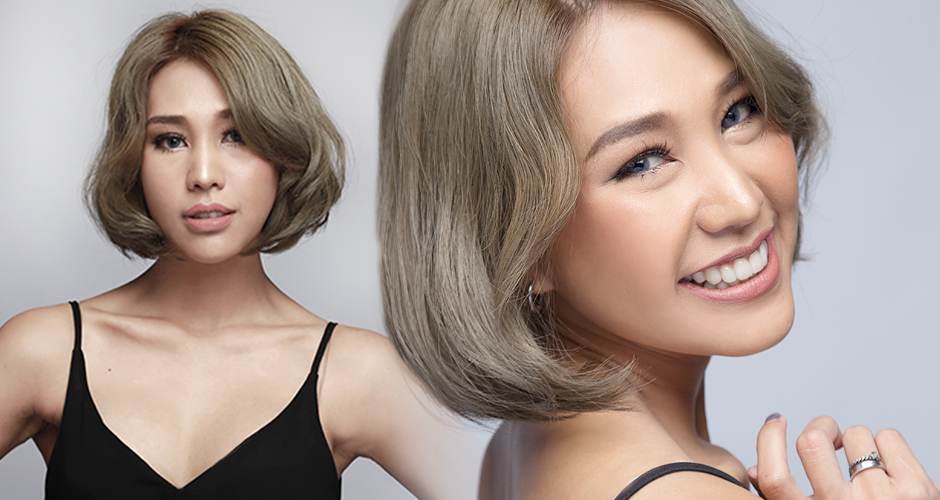 One of the participants in Makeover by SLC – how will this makeover of Warintorn Songklao or Tatun transform her? Let's find out!
Dress up in a "tomboy look" to escape from her true desire
Warintorn Songklao, or Tatun, was one of the participants in Makeover by SLC Season 4. She was the former boyish-looking "architect". Before entering this project, she had always rejected everything that was related to beauty, merely thinking to herself that "I will never look good by dressing up. I don't look like a woman". In combination with many critics who censured her that the feminine look did not suit her, Tatun's confidence was depleted. She consequently turned to dress up like a tomboy against her own will.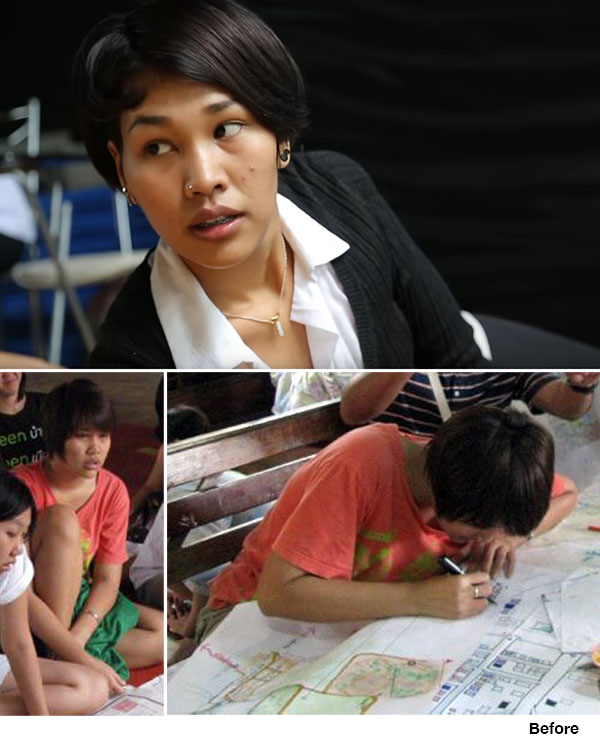 The desire to transform herself, improve characteristics, and continue her family business
Until the day that she had committed to continue her beauty-related family business in the field of "Hair Stylist", she decided to "transform her tomboy look into a more feminine look" in order to improve her image, defeat social humiliation, give her courage to meet new people in the "Hair Stylist" industry, and continue her father's business with confidence.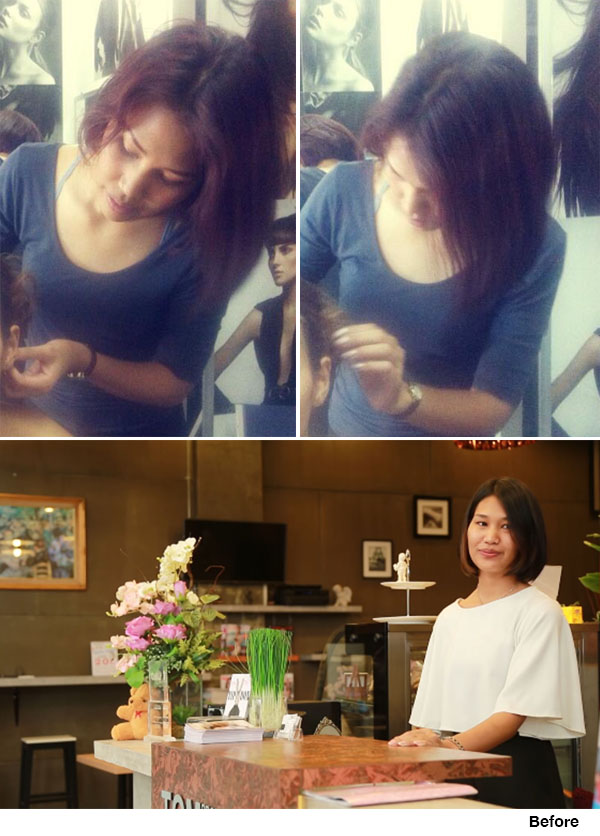 The decision to apply for the Makeover by SLC project
"On the day that I applied for the Makeover by SLC Season 4, I didn't tell anyone about it. I adhere to the principle of doing before saying, so I didn't tell my parents. I also had no idea how other people would think of me applying for the project, so I decided to make the decision on my own. After I got accepted to be the part of Makeover by SLC Season 4, it was when I decided to tell my parents. They had always wanted me to look better, so it was not a surprise that they fully supported me with my decision."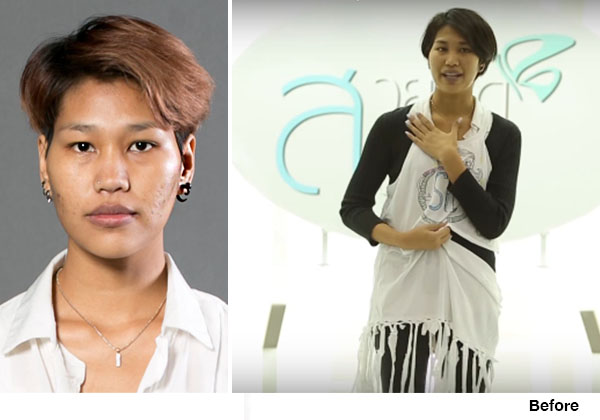 A new desired look that embraces sweetness with a trace of sexiness
"When I first joined the project, the doctor asked me if I wanted a cute or sexy look. I believe that a sexy look will never get boring, so I told the doctor that I wanted a sexy look with a sweeter face. After the transformation, I got to meet with my dad's friend who told him that: "You're lucky. Your daughter is such a natural beauty". This is because my transformation, through plastic surgery, gives me a natural look. I love the fact that I don't look like any typical blueprint of plastic surgery."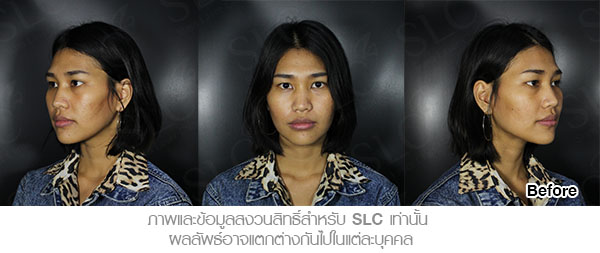 1. Breast Augmentation Click! For more information
The first stage of Tatun's transformation is "breast augmentation". Originally, her breasts were visibly uneven. So, the surgeon corrected such issue by evening out her breasts, as well as enlarging them to improve her appearance through breast augmentation that uses Natrelle silicone –the brand that has been internationally certified. With uneven breasts, the surgeon inserted a silicone shell with 340cc implant to the right side and 300cc to the left side through an incision under the arm.
บริเวณรักแร้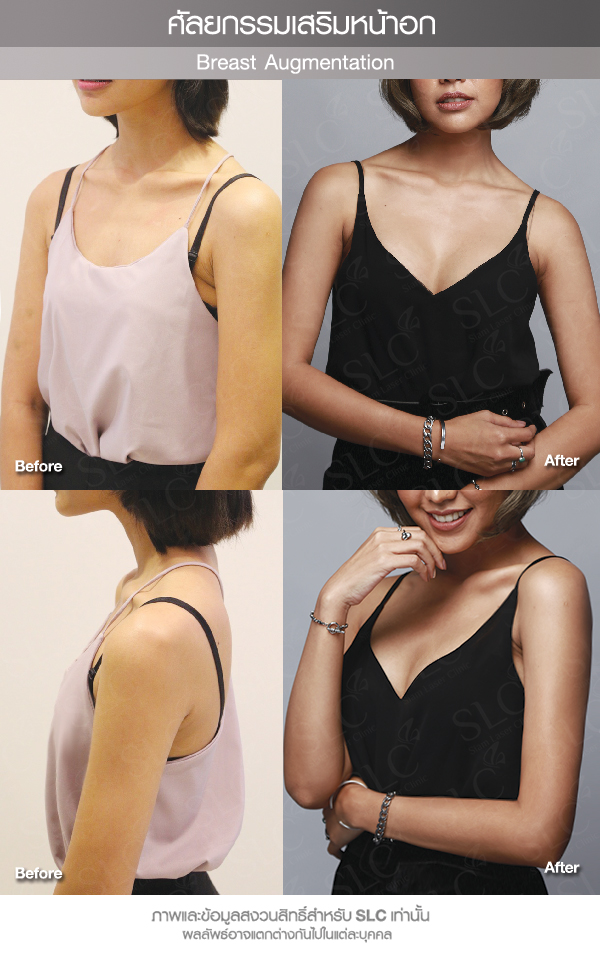 2. Rhinoplasty Click! ดูข้อมูลเพิ่มเติม
Her nose structure, which is called a dorsal hump, caused her face to appear as wide and bland. Our specialized surgeon therefore reshaped her nose structure (hump) to make it narrower and implanted it with a premium-grade soft silicone using an endonasal rhinoplasty technique.



3. Double Eyelid Surgery Click! for more information
Increased the epicanthic folds in the upper eyelids to define her eyes that complement with the brow ridge, which creates a more proportionate eye, resulting in a sweeter look.

4. Endoscopic Brow Lift "Correct Asymmetric Brows" Click! for more information
Originally, her left eyebrow was lower than her right eyebrow. Therefore, our specialized surgeon performed an endoscopic brow lift using a medical material, comprising of four pieces of endotine, in order to attach them to the skin around the brow area and lift her brows. The procedure was done through a minor 2-centimeter incision near the hairline. After that, the surgeon lifted her left brow to even out the brows.


This technique will give her eyes a more defined look, while increase the area between the eyes and the eyebrows, resulting in a sweeter look. The benefit of a brow lift with this technique is a faster recovery due to a smaller incision as compared to the facelift surgery. The use of endoscope enables the details of the structure under the skin to be seen clearly, without interfering with the blood vessels and other nerves.



5. Cheekbone Contouring Click! for more information
Formerly, she had high cheekbones that gave her a more masculine look. Accordingly, our experienced surgeon decided to perform a lateral cheekbone contouring, which was done simultaneously with rhinoplasty.






6. Gum Surgery "A Solution to Gum Recession" Click! for more information
Since the bone that supports her teeth had withdrawn, her gum receded in the area around some of her front teeth, revealing an uneven gum line. The surgeon therefore performed a gum surgery on the nearby teeth to make them have a similar level with the problematic teeth, giving a more even gum line.



7. Veener redesigned the smile, preventing damage to the tooth surface (Click! For more information)
"Before this, I underwent an orthodontic treatment for five years. The doctor advised me to remove the braces first in order to identify the core issue of my tooth structure. It was found that my teeth were spaced out and uneven. So, the doctor recommended me to undergo a dental veneer. The result gives me a new and more beautiful smile. My teeth are now even and complement with the shape of my mouth and yes, my smile."




Makeover by SLC
From a tomboy-looking girl to a speechless stunning lady!


Moreover, Tatun also received a skincare treatment, including acne treatment for a clear and smooth complexion, skin nourishment and rejuvenation, as well as a post-surgery physical recovery. The services that she received are as follows:
1. Thermage CPT 600 shots
With a reduction to the cheekbone, upon a full recovery, the skin will sag according to gravity. This symptom is common in patients who underwent a cheekbone contouring surgery. Hence, Termage CPT is a medical alternative that will correct the facial structure by lifting and firming the face, as well as reduce cheek fats and slim down the face. It also revives the skin and effectively improves the skin functions with maximized efficiency. Click! For more information
2. Acne Control Program is a combination of techniques for the treatment of acne and acne scars. Click! For more information
3. V Beam Laser – a laser beam with the wavelength of 595nm is used to treat the abnormality of blood vessels under the skin, as well as inflammatory acne and redness. Click! For more information
4. White Laser is a laser treatment that is performed to correct skin imperfections caused by melanin, including dark spots, freckles, blemishes, and uneven skin tone. Click! For more information
5. IPL – an intense pulse light that promotes skin restoration. The light will attract water molecules of the collagen, which causes the skin to generate new collagen, revealing a bright and clear complexion. Click! For more information
6. Meso Nano Treatment is a technology that breaks down vitamins into nanoparticles, enabling the vitamins to be efficiently absorbed into the skin around the face and neck. Click! For more information
7. Micro Dermabrasion – a technology that rejuvenates the skin using tiny exfoliating crystals to remove dead cells and facilitate effective absorption of vitamins. Click! For more information
8. Detox Blink nourishes the skin from the inside, while recovers the body after surgery. Click! For more information
9. Hair Removal – removes facial and underarm hair with Gentle Yag Laser technology. Click! For more information

The confidence to do everything to the fullest...leads to the business success today
"In the aspect of career, characteristics and appearance are the first thing that people see in service businesses like a hair stylish. In addition, they also reflect the image of our business. Today, I am much more confident in social networking and meeting customers. I am now confident to do everything with my best effort, including putting on makeup and dressing up in a more feminine style. It gives me more courage to communicate and coordinate with other people."



"Today, my business is continuously growing. I have opened over 10 hair stylish branches and I also allocate my time to do some charitable work, giving haircuts in various schools. Since my life has improved tremendously, I want to share it with other people as well."




What do you think of the word "plastic beauty"?
"I'd have to say that, after the plastic surgery, nobody referred to me as a plastic beauty. Many people said that I look so much better. But if I were happen to come across this word, I wouldn't really care. I think that plastic surgery is not strange or wrong for someone who wants to transform herself. Apart from an improvement in appearance, it also changes our characteristics. Once we become more confident, our perception and ideas also change, in a better way of course."



What would you advise people who want to do plastic surgery?
Every woman wants to have a good image and appearance. Plastic surgery is not a wrong thing to do but there are also a lot of side effects. It is therefore important to study about it thoroughly. Not everyone needs to undergo plastic surgery, but if you want to do it, make sure that it is "just enough". We can create our own perfection if we are willing to change.




Thanks to all the opportunities that give me the "courage to change"

"I would like to thank the Makeover by SLC project, every opportunity, and including myself. To me, it is like a fate that this project was available when I had the courage to apply for it. Thanks to all of the pressure that motivated me to apply to this Makeover project to express my true desire for a self-transformation. Today, I am still being myself but with better characteristics and more courage to voice my own opinions and do various things. I would like to thank all of the doctors and everyone in the SLC team that have been taken great care of me as if I was part of the family. Thank you everyone who gave me a new life and brought me to where I am today."




Thank you for the interview from Tatun, Makeover by SLC Season 4
IG : tatun.warinsaya
Facebook : tatun.warinsaya
Contact Us
Call Center : +66 2 714 9555
Whatsapp : +66 96 116 0806
Facebook : SLCclinic
Skype : SLCclinic
LINE : @SLCclinic


Contact Us