Laser Hair Removal and tighten pores, for smooth and radiant skin 
Hair Removal treatment with Gentle YAG Laser. The laser creates a beam of high-intensity light that penetrates deep into the hair follicle. It is safe and effectively removes unwanted hair from all areas without damaging the pores and surrounding skin tissue. This treatment combines with a Dynamic Cooling Device (DCD) that sprays a cool gas in the same time as the laser treatment to enhance comfort and protect the skin during the treatment. Gentle YAG Laser is available for all skin tones. You will be able to show your armpits and legs with confidence after having had permanent laser hair removal.

 

Results
Hair loss permanently if having treatment continuously.

Skin will be smoother with tighter pores.
What body areas can be treated with Laser Hair Removal?
    Hair lines, forehead

    Facial skin

    Mustache

    Beard

    Armpits

    Upper arms

    Lower arms

    Arms

    Calves

    Shins

    Front thighs

    Back thighs

    Bikini

    Brazilian
Treatment time 
About 30 minutes/ treatment, depending on the area treated. 
 
Post-treatment care
Peeling and flaking skin might occur within 1-3 days, apply moisturizing cream as recommended.

Avoid strong sunlight, use sunscreen SPF 30 or more
Review - Laser Hair Removal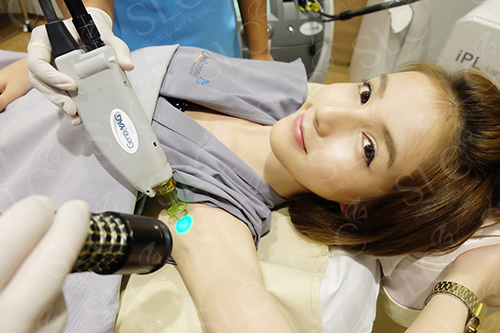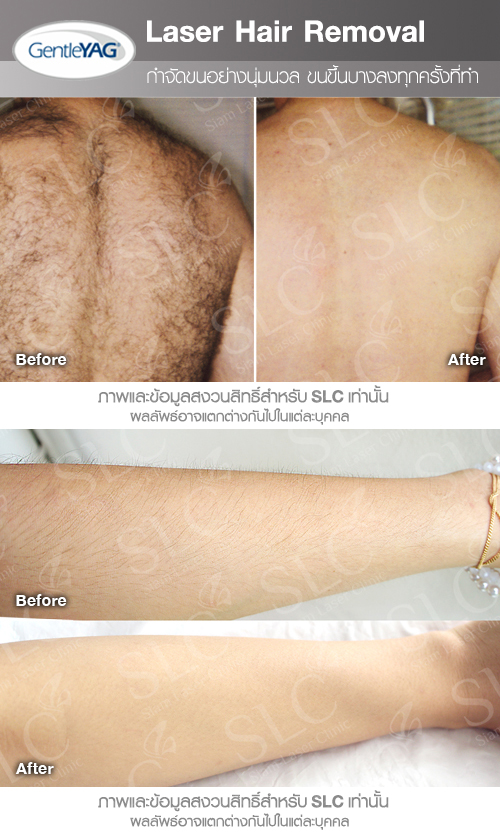 ​
For more information
Call Center : +66 2 714 9555
Whatsapp : +66 96 116 0806
Facebook : SLCclinic
Skype : SLCclinic 
LINE : @SLCclinic