LED Light Therapy is a skin laser treatment that helps to reduce inflammation, treat acne, and restore the skin for a youthful appearance.
A medical innovation with high efficacy in restoring damaged cells to their normal functions, stimulating the production of collagen in the inner skin layer, repairing inflamed areas within a short period of time, relieving swelling and injury, treating acne, and restoring the skin for a youthful complexion. Likewise, this LED light therapy has the ability to maintain healthy scalp deep down into the hair follicles. The treatment for each skin problem will incorporate the use of both low-level laser therapy (LLLT) and light emitting diode (LEDs), which is the technology that has been certified for the safety standards by the FDA in both Thailand and the U.S.



The operating principles of a laser during or even after the treatment will not generate heat into the skin layer nor result in any side effect. In addition, it is suitable for individuals who wish to reduce swelling from post-surgery. Meanwhile, each treatment will depend on the appropriateness of the wavelength of the light, which will be decided by a medical specialist. The wavelengths can be categorized into two types, as follows:

1. Yellow light wavelengths (photo-sequencing): 830-590 nm (w/590)



2. Red light wavelength: 633 nm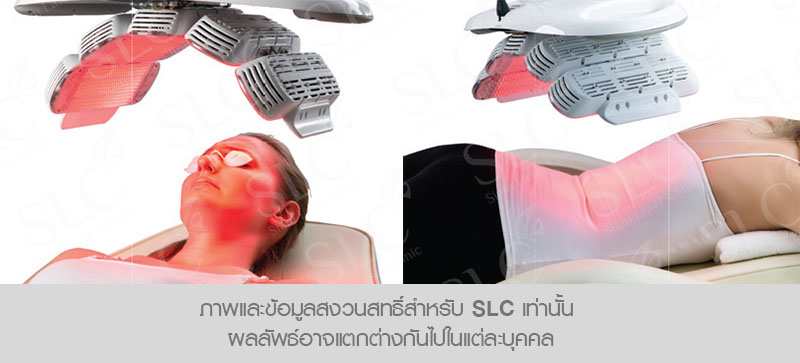 These two types of wavelengths help to restore and rejuvenate skin, reduce swelling and inflammation, and maintain healthy scalp.
1. Red light with a wavelength of 633 nm

The light energy will penetrate into the reticular dermis, which is a skin layer that comprises of collagen and mature elastic fiber. Reticular dermis can be further separated into two sub-layers:
• Upper zone is the upper layer of reticular dermis that consists of medium-sized collagen and horizontal elastic fiber. This layer is very sensitive and prone to diseases.
• Deeper zone is the lowest layer of reticular dermis. It comprises of large-sized collagen and elastic fiber, as well as a large number of inflammatory cells and fibroblasts.




Features of the Wavelength of Red Light at 633 nm
• Skin Rejuvenation – helps restores the skin for a youthful appearance
• Hair Regrowth – strengthens the scalp and promotes hair growth

2. Yellow light (photosequencing) with a wavelength of 830 nm-590 nm (w/590)

The light energy will penetrate into the skin layer between epidermis and dermis (dermodepidermal junction) and the superficial dermis. It will stimulate the activities of cells in this layer, increase the level of Ca++ and H+ in extracellular tissues, and enhance cell signaling to improve the responsiveness of the body mechanism.




Features of the Wavelength of Yellow Light (Photosequencing) at 830-590nm (w/590)
• Wound Healing – speeds up the healing process of wounds or degenerated cells by releasing growth factors
• Pain Relief – relieves pain or inflammation
• Hair Regrowth – stimulates hair growth
• Acne Treatment – treats acne
• Skin Rejuvenation – restores the skin for a youthful appearance and promotes the synthesis of collagen, elastin, and glycosaminoglycans



Benefits of Treatment with LED Light Therapy Innovation

• Treat skin degeneration deeply into the cell level, without affecting other nearby cells or tissues.
• Promote normal activities of cell according to the natural mechanisms
• Reduce swelling after a major surgery, which causes the results of the surgery to be revealed faster
• No need for recovery due to no side effects and can spend a normal daily life after the surgery
• The treatment does not cause any pain. Rather, the skin will be relaxed while receiving the light therapy
Experience during Treatment
The skin will feel relaxed and warm around the treated area.

Duration of Treatment
10-20 minutes per time. The treatment can be done two times per week according to the consideration of the medical specialists.


Results of Treatment with LED Light Therapy


Contact Us
Call Center: +66 2 714 9555
Whatsapp: +66 96 116 0806
Skype: SLCclinic
Facebook: SLC clinic
LINE: @SLCclinic