Endoscopic Brow Lift
It is a procedure of endoscopic surgery with a very small incision, much smaller compared to traditional brow lift surgery, provides an excellent result, and the surgical wound heals quickly, with less risk of complications.



Results
Look more pleasant and approachable.

Very small surgical wound that heals quickly.

Less risk of surgery complications.
Treatment time
About 1 hour.

Post-treatment care
Recovery time for one day is required.

Follow up with your doctor.
Review : Endoscopic Brow Lift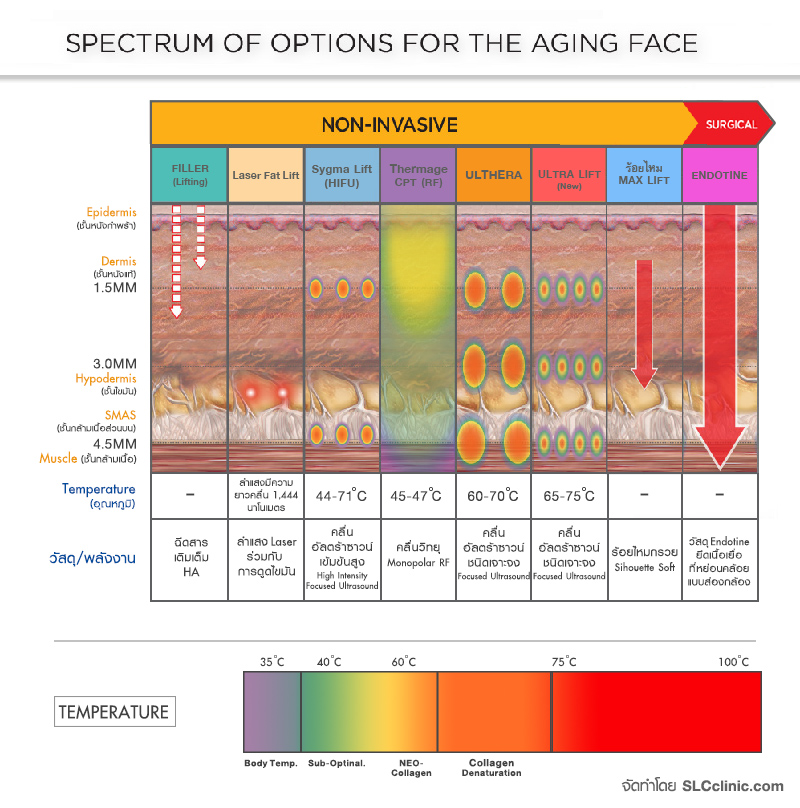 Treatments

Principles

Results

Suitable for




- It allows doctors to see the layers of tissue they are treating.

- Delivers ultrasound energy with high frequency waves into the superficial muscular aponeurotic system (SMAS) underneath the skin deeper than the collagen layer.

- The treatment combats natural sagging and damage of the skin.

- This is a non-surgical procedure.



- It can take 2 months to see the final result.

- The results can last for 1-2 years.

- Individuals who suffer from aging signs like sagging skin.










- Radiofrequency (RF) from this treatment provides a heat energy which penetrates deep into the skin layers, effective at reducing wrinkles, and providing a firm and smooth skin texture.

- This is a non-surgical procedure.

- It can take 3 months to see the final result.

- The results can last for 1-2 years if having treatments continuously.

- Individuals who have located excess fat and desire to have firm skin.

- Individuals who are available to have this treatment several times continuously for 6 months.







- Emits ultrasonic energy at fixed points with high intensity (HIFU LINE) in the treatment area. The energy can also penetrate into the fascia tissue that supports the skin with a frequency of 1,000 times per second.

- This quick emitting makes it painless during treatment.

- This is a non-surgical procedure.

- A significant improvement noticeable for people who have the treatment regularly, and results may be different from person to person, depending on the skin condition of individuals.

- Results can last 6 months to 1 year.

- Individuals who suffer from sagging skin and who desire to have firm skin, and who are available to have the treatment at least once a month.





- Corrects all skin problems, reduces wrinkles and fine lines, and restores youthful looks with natural extracts of Hyaluronic acid (HA) filling.

- Facial reshaping can be provided with filler treatment.

- Treatment area will be naturally improved in appearance immediately after treatment and the results can last 2 years.

- Individuals who desire to have firm skin and improve skin appearance immediately after treatment.

- A specialized doctor consideration is required in case of facial reshaping.





- Uses laser energy to eliminate (melt) excess fat in a specific site of the face.

- Dissolved fat will be sucked out by a small Cannula of the laser device without damaging and bruising of the surrounding tissue, and the treatment area is very small, like a needle spot.

- Treatment spots will disappear within 7 days.

- Significant improvement noticeable immediately.

- The results will last if you take good care of yourself and control your diet regularly.

- People who have facial excess fat in specific sites.

- Tightens facial skin with firming function of fine dissolvable threads.

- This is a non-surgical procedure.


- The soluble part of the threads will be completely dissolved within 6 months.

- Treatment area will be lifted and firmed, and will last for approximately a year.

- People who suffer from sagging skin in the face and the neck, have drooping brows, or who have nasolabial folds problem.

- Eyebrow lift performed under microscope with a medical material called Endotine, which binds with the forehead bone (frontal bone).

- A small incision will be made, accurately performed under microscope, and harmless to surrounding nerves and tissue.

- Endotine enhances collagen formation. Provides firmer skin textures in the long term.

- Significant improvement noticeable immediately with semi-permanent results.

- Endotine is absorbed naturally by the body – leaving nothing behind within 6 months.

- Tighter and firmer eyebrows, and the results can last 1 year.

- Individuals with drooping skin on the forehead with deep wrinkles.

- Individuals with eyebrows drooping.

- Individuals who desire to have more dimensions of their eyelids.

Prepared by www.SLCclinic.com
For more information​
Call Center : +66 2 714 9555
Whatsapp : +66 96 116 0806
Skype : SLCclinic

Facebook : SLC clinic
LINE : @SLCclinic